The Inception of Powderpaint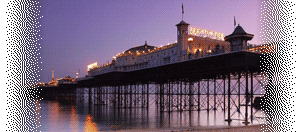 It is early morning in a seaside town in England in the year two thousand and eighteen. As the sun rises over the water, two figures materialise on the pebble beach, like The Terminator in The Terminator. It is Powderpaint.
A pow(d)erful fusion of indie pop producer Envelope Generator and producer/songwriter Shonalika, they emerged, fully formed, into the world, and launched a queer dance pop torpedo squarely at the local six string beatniks.
---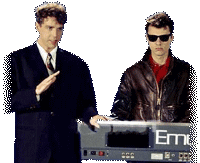 Powderpaint are fresh. Outdated. Timeless. Retro. Eternal. Their sound and image is influenced by 80s disco and Hi-NRG like Scritti Politti, The Pointer Sisters, and queer icons before them like Pet Shop Boys and Florence + The Machine. You're gonna want to get up and dance. You're gonna feel good.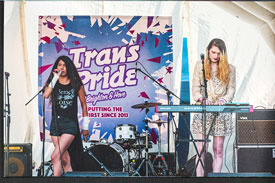 Since their live debut at Brighton's anarchist co-operative The Cowley Club in 2018, Powderpaint went on to play Trans Pride Brighton that same year, returning in 2019 as headliners. After a brief interruption by an international super plague, Powderpaint triumphantly returned once again to headline Trans Pride Brighton in 2022.
---
In June 2020, Powderpaint released their first EP full of sizzling synthesizers, funky guitars and retro grooves. The songs covered themes of trans identity, bad relationships, pseudoscience, and an unapologetic celebration of queer people's love and happiness.
Their conquest of the dance pop landscape will continue as they work hard on a follow-up, set to be released some time in early 2023, as well as promotional videos for some of their upcoming bangers.
Powderpaint are not yet done with this planet.